Zinstall Cloud Migration Suite takes your Windows desktops to any Cloud
Zinstall Migration Suite allows delivery of personalized end-point workstations form/to the Cloud.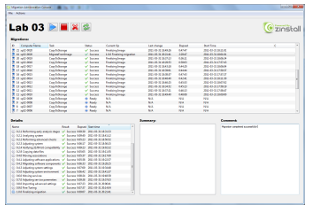 Cloud computing brings many promises to today's business.
No matter if you have already decided to make the move or still hesitate – our product will help. If you are already working to move your workstations to the cloud – our product solves critical problems along the way and makes the move happen painlessly and efficiently. If you are still considering – it removes important barriers and fears, making your decision simpler.
Zinstall provides a way to automatically and completely move user workstations to a Cloud environment, while preserving both the users' and the IT staff's way of doing their job. This allows making the move to any Cloud environment gradually, without a big commitment in time and training, and without engagement to a specific Cloud vendor. Zinstall gives you the freedom to move from one Cloud vendor to another, or even go back to the traditional computing model.
A very deterring concern is getting locked-in on a specific vendor that might not live up to the initial expectations. When putting all your eggs in one basket, questions arise – What if the Cloud vendor cannot fulfill his promises? Will it be possible to switch to a different vendor? The worst case scenario is to get stuck having to choose between compromising on a mediocre solution that actually makes things worse for your business, or having to admit failure and make tremendous efforts in order to revert everything back.
What about offline use? The move to the cloud causes a big single point of failure. The network connection must be always on. What happens when network connectivity problems occur? Does this mean that the entire business is put on hold during that timeout? How do mobile workers fit in? And what about home-based workers, field workers, employees who are occasionally mobile or traveling executives?
Moving workstations to the Cloud is a challenging task. For starters, it means rigorously documenting and explicitly defining the computing needs of every user group and department. Which core applications do they use to execute their business duties? What is the flow of business data? Which supporting tools are needed to get their job done and boost their productivity? Afterwards, the need to re-create the entire computing stack in a new Cloud environment requires mastering and implementing emerging technologies such as application packaging & virtualization, application streaming, and more. Reshaping the IT environment means that problems that were already solved in your existing traditional computing environment will resurface, forcing you to solve them again.
Successful adoption of enterprise cloud computing will depend on how well IT is able to mitigate these risks and make it a no-brainer for stakeholders to go for it.
We made our product to solve the above problems and eliminate these inherent risks in the shift to the Cloud.


Zinstall Migration Suite
The underlying foundation of Zinstall is the distinct separation of computing layers: applications, settings and preferences from the underlying OS and hardware-specific software of the end-point physical machine. Since the layers are separated from the underlying OS – Zinstall allows moving them flexibly and precisely:
Between two different machines (physical or virtual)
From physical machines to a cloud-hosted virtual environment
Between different source / target OS versions and editions (e.g. Windows XP to Windows 7)
From virtual containers to physical machines
32-bit to 64-bit and vice-versa
Example Use Cases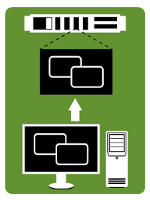 Taking a personalized end-point to the cloud
Transferring the applications and personalization of a user workstation into a cloud-hosted desktop
Zinstall enables seamlessly transferring the application and personalization layers of an existing workstation to a fresh cloud-hosted virtual machine (VM). After the layers are transferred, the user can continue working on the VM via a thin/thick client just as he did on the physical instance before.
Business process continuity – offline use
Exporting a mobile worker's cloud-hosted desktop instance to a mobile device for offline use and then syncing back
For users that do most of their work in the office, but need to work on the go from time to time, Zinstall enables downloading the user personalization from the user's cloud-hosted desktop or physical workstation to a laptop or even a USB drive – allowing the user to take his entire environment with him on the go and offline. Afterwards, Zinstall can automatically synchronize all the changes made while the user was offline back to his cloud-hosted instance.
Cross-vendor transfer
Migrating the complete environment from one cloud vendor's infrastructure to another
When moving from one vendor's cloud infrastructure to another, Zinstall transfers the applications and personalization layers of a given personalized cloud-hosted VM of vendor X – to a blank cloud-hosted VM of vendor Y.


Key benefits:
Intuitive and friendly: Both for the administrator and for the end-user
100% confidence: User environment is fully preserved after migration, including all applications, settings and data.
Resilient and hardware-agnostic: Old PCs, new laptops – Zinstall takes care of it for you
Scalable and efficient: Smart de-duplication and resource balancing algorithms
Made for corporate IT: Manageability, scripting support, preservation of installed workstation administration tools after migration


Key features:
Supports Windows XP, Windows Vista and Windows 7
Supports 32 bit and 64 bit environments
Full support of domain controllers, active directories, permissions and policies
Preserves existing security settings and configurations
Supports multi-user PC environments
Advanced filtering options on the migrated data
Easy selection of migration sources and targets using a centralized migration console
Transfers all available files to the new OS
Transfers all available applications to the new OS
Prevents contamination of the new OS with old OS files, settings, drivers and registry entries
Full integration between the old familiar desktop and the new clean desktop


Please contact our sales for a quote.