Take control of your desktop. Double your productivity.
Open two windows side-by-side, keep windows always on top, make windows transparent, save all of your open applications. Twinsplay lets you take control of your desktop and double your productivity.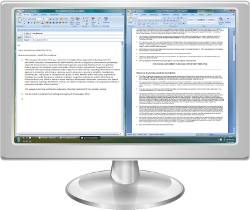 Do you open two different windows at the same time on your PC screen?
Need to write an email in Outlook and want to quote that Word document?
Work with Internet Explorer and have to write the figures down in an Excel spreadsheet?
Update your payroll system and must look at employees' details from another corporate database?
Let's see what New York Times columnist F. Manjoo says about this in his article "Want to Get More Work Done?":
"I typically use two main programs when writing articles — Word and a text editor in which I've compiled all my notes. For instance, as I'm writing this story in Word, I'm switching back to my text editor to search for pertinent data. When I find that information, I select it, copy it and switch back to Word to paste it. This is a common office task, perhaps the main thing we do on computers."


Want to see both windows side-by-side? Open window number 1. Adjust its size. Open window number 2. Adjust its size. And you have to do this
Every. Single. Time.

Need to manage more than two windows? Warm up your mouse, it's going to take some work.
Frustrated?
There's an
easier way
. We call it
Twinsplay
.
Twinsplay
enables you to:
Work easily and effectively with two windows side-by-side, giving you "two screens in one" in a simple click
Remember all your open windows, and instantly restore an entire working session - not just the windows, but their contents as well!
Easily switch between window collections using the Twinsplay virtual desktops

Want to learn more about Twinsplay and how it makes your work easier and boosts your productivity?
Click here!